Artificial intelligence, machine learning, and deep learning are advancing industries and changing the way people work, live, and create.
Artificial intelligence (AI) has an enormous potential to advance industries and change the way we work, live, and create. As one of the most exciting technological developments in recent years,
AI is already a common part of modern life. It plays an important role in applications from self-driving cars to cancer diagnosis, automated financial market trading, and predictive maintenance.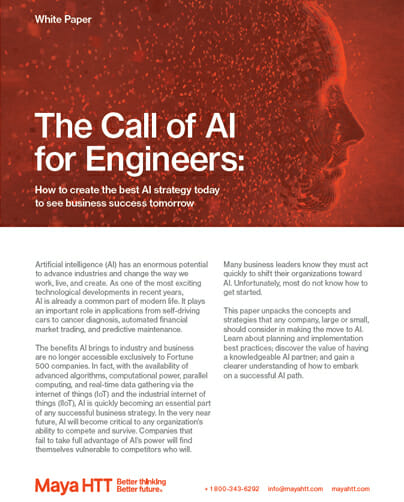 The benefits AI brings to industry and business are no longer accessible exclusively to Fortune 500 companies. In fact, with the availability of advanced algorithms, computational power, parallel
computing, and real-time data gathering via the internet of things (IoT) and the industrial internet of things (IIoT), AI is quickly becoming an essential part of any successful business strategy.
Don't be left behind.
Get the 7 keys to succeeding with AI now and in the future, including:
Business strategies to consider
Ensuring you have enough of the right data
Planning and implementation best practices
How to embark on a successful AI path now and for the future
Start charting your AI path today! Download the white paper.